The Trust for the Americas, Microsoft and EY join efforts to reduce labor inequality in Chile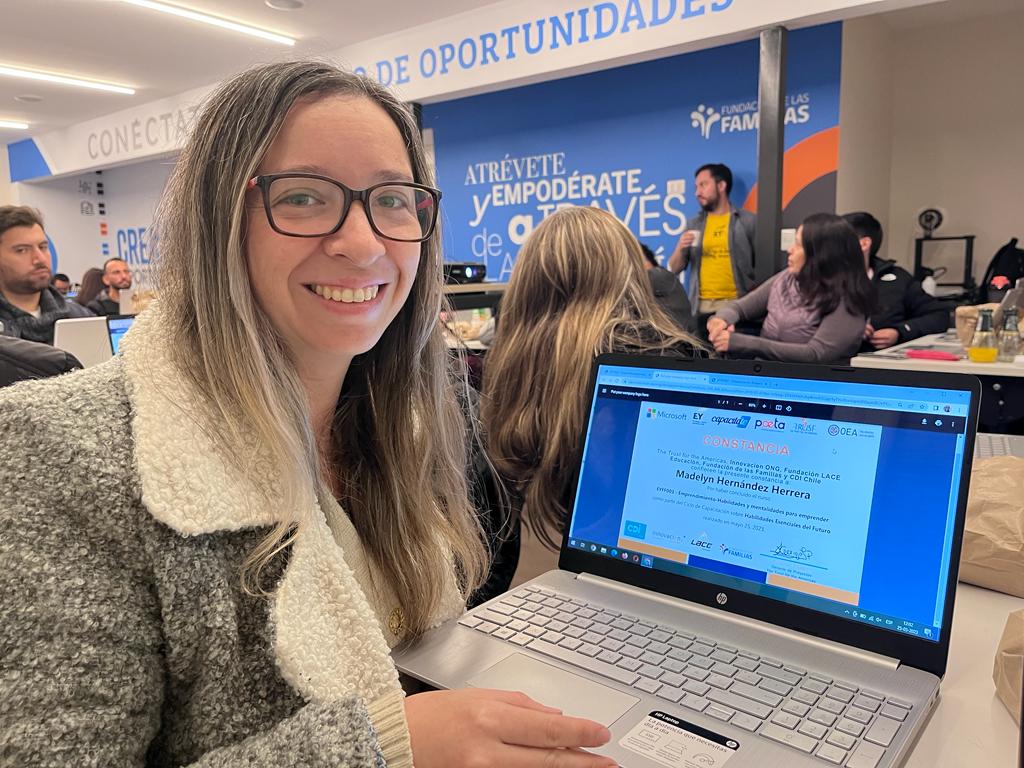 Capacitación de EY en Chile
This alliance is part of the strategies within the framework of the POETA DigiSpark Project
Participants of POETA DigiSpark in Chile will receive training in skills that will facilitate their access to economic opportunities, through the Ernst & Young (EY) Future Skills Workshops curriculum.
Santiago, Chile (May 25, 2023) – With the mission of catalyzing employability and transforming the lives of vulnerable populations in Chile, The Trust for the Americas establishes a strategic collaboration with Ernst & Young (EY) and Microsoft. This alliance aims to empower people through training in digital and technical skills, increasing their competitiveness in the labor market and opening the door to new economic opportunities, especially for those looking for their first job.
The Trust for the Americas, an international NGO with a significant impact in the Americas, promotes synergies between the public and private sectors, seeking to generate a positive change in the lives of millions of people. In 2022, Ernst & Young (EY) took the initiative and joined the POETA DigiSpark project to deliver Future Skills Workshops, a platform to help beneficiaries acquire the necessary skills for employability in today's world.
It should be noted that Microsoft and The Trust have been allies for more than 15 years in favor of empowering vulnerable communities in the Americas through the access, use and appropriation of technology. Funded by Microsoft Philanthropy, the POETA DigiSpark project continues to spearhead Microsoft's Global Skilling Initiative in Latin America and the Caribbean. This is thanks to access to training and mentoring to people most affected by the recent loss of jobs or who are at risk of being replaced by automation processes.
During the opening of this meeting, Verónica Philippe, Manager of the POETA DigiSpark Project of The Trust for the Americas, highlighted that "It is thanks to the alliance between different actors such as private companies, social organizations and NGOs, as well as international organizations that we can bring international development efforts like today's training." Verónica proceeded to thank the local partners POETA DigiSpark in Chile – Innovacien, CDI Chile, Fundación Lace – for their enormous support; as well as Fundación de las Familias for their willingness and commitment in offering us the space of their training center to celebrate the event.
Within the framework of this alliance, EY volunteers led these workshops, providing training to people over the age of 16, especially those who are unemployed or underemployed, in the FSW Entrepreneurship and Financial Literacy content. This training opens ways to compete in the labor market, whether it is looking for a job, a promotion, an internship, creating or strengthening a business, or starting or advancing in their formal education.
In this sense, Patricio Cofre, a partner in Data Analytics Consulting at EY Chile, commented: "Contributing to people improving their economic opportunities through the use of modern tools is something that brings us closer to our purpose as a company. We are very satisfied with the result of this event, and we hope to continue multiplying this effect in future activities".
The Trust for the Americas, together with EY and Microsoft Filantropías, underscore a solid commitment to professional development and growth in Chile through its local partners such as Innovacien, Fundación Lace, CDI Chile and Fundación de las Familias. With this, they seek to amplify the scope of the training initiative of The Trust for the Americas' POETA DigiSpark Project, which seeks to promote economic and educational opportunities in Argentina, Brazil, Chile, Colombia, Guatemala, Mexico, Peru, Puerto Rico and Uruguay.
Microsoft has been a crucial pillar in the development of The Trust for the Americas' POETA DigiSpark project. In this sense, Jorge Cella, Director of Philanthropy Microsoft Latin America, pointed out that "collaboration, technological learning and inclusion are key for Microsoft. By providing people with digital skills, we seek to support them so that they can improve their employment situation and thus better adapt to the changing needs of the market. We cannot achieve these objectives by working alone, the only way to begin to solve these social problems is by working in collaboration with different organizations. This alliance will allow us to continue building together in favor of the needs of people quickly and effectively, so that they obtain new and better job opportunities."
Since its inception in 2013, The Trust for the Americas through the POETA DigiSpark project has made a tangible impact, directly training nearly 75,000 people ages 16 and older and educators in digital, technical, and life skills. For more information visit:
https://www.trustfortheamericas.org/programs/POETA/poeta-digispark
Facebook: The Trust for the Americas Twitter: @Trust4Americas
About The Trust for the Americas:
The Trust for the Americas is a non-profit entity affiliated with the Organization of American States (OAS). Established in 1997 to promote public-private partnerships, The Trust has implemented projects in 24 countries and has worked with more than 1,000 organizations in the region. Our initiatives seek to promote educational and economic opportunity, as well as government accountability and transparency. Our unique alliance with the OAS allows us to have access to decision makers within the region. This fundamental partnership is the foundation through which we create strong networks in all member states and the private sector. Through the development of our region, The Trust continues to contribute to overcome challenges through strategic alliances that promote cooperation for sustainable results.
About EY:
EY exists to build a better business world, helping to create long-term value for its clients, its people and society at large, as well as building trust in the capital markets. Through data and technology, EY's diverse and inclusive teams, located in more than 150 countries, deliver confidence through audit and help clients grow, transform and operate. EY's multidisciplinary approach across audit, consulting, legal, strategy, tax and transactions empowers EY teams to ask better questions to find new answers to the complex issues facing our world today.
About Innovacien:
they are a non-profit Organization that promotes creativity, innovation and entrepreneurship in the educational system, seeking to develop new learning models from practice that will allow people to be protagonists of the global knowledge society. To promote the thoughtful and creative use of new information and communication technologies (ICT), Innovacien conducts training and accompaniment with different audiences in educational establishments, with entrepreneurs and other foundations. Expanding its original range of action from a network of leading schools in Chile initiated by the Innovation Forum to an organization with a varied group of training projects for different audiences.
About Fundación Lace:
it is a company accredited by the Ministry of Education, through the Registry of Educational Technical Assistance (ATE), which specializes in the Design of Educational Improvement Plans, in Advising Teachers in their Professional Evaluations, as well as in the development of high quality materials tested by schools of excellence. The work developed is based on creativity and innovation, achieving as a result training courses that provide concrete results in the improvement of pedagogical practices, strengthening the coexistence of the participants in their educational establishments and the efficient management of resources.
About CDI Chile:
They are an NGO that trains, educates and proposes digital empowerment solutions for people and civil society organizations. They seek to build a more just and equitable society, democratizing opportunities. To do this, they use technology as a tool to transform people.
About Fundación de las Familias:
It is a non-profit private law institution, created in 1990 by the then first lady Leonor Oyarzún. Since January 5, 2022, the Board of Directors is chaired by the Minister of Social Development and Family. From the territories, for and with the communities, they design and implement actions that, through bonds of trust, promote participation, wellbeing and equity in families. They are a foundation for families in vulnerable situations focused on prevention, empowerment and inclusion.