The Trust for the Americas and AES Puerto Rico train new entrepreneurs.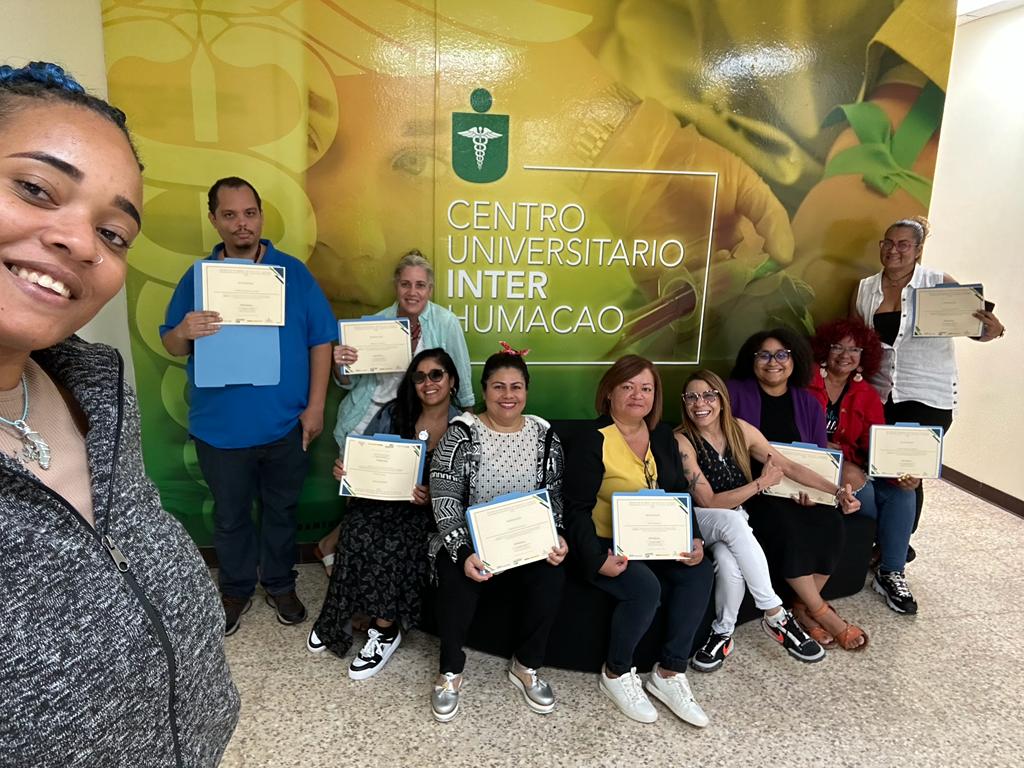 Participants from the project
July 11, 2023 - San Juan, Puerto Rico - The Trust for the Americas, in collaboration with AES Puerto Rico, has kicked off the free training sessions for the "Empowering Innovative Entrepreneurship" Project. Through this initiative, approximately 120 individuals are expected to create and strengthen their entrepreneurial ventures aimed at local development in the municipalities of Guayama, Salinas, Humacao, and neighboring areas.
The fourth edition of the project aims to benefit participants with training in digital tools, business strategies, managerial skills, and administrative expertise, along with personalized guidance for budding entrepreneurs. "We are excited to launch the fourth edition of this initiative. When we look back at the success stories of individuals who underwent training in previous years and now share their thriving business models and how they have served as channels to replicate what they learned, we see the fruits of our efforts benefiting our communities. At AES Puerto Rico, we have decided to continue strengthening this entrepreneurship project by expanding to nearby municipalities and other locations on the island," expressed Jesús Bolinaga, President of AES Puerto Rico.
In addition to the training, the most outstanding ventures in terms of viability and sustainability will be selected to receive economic incentives, and other ventures will have the opportunity to receive specialized business acceleration guidance. The project's advisor will support the entrepreneurs in accelerating their businesses by analyzing their strengths and weaknesses and aligning them with current market opportunities.
This time, both institutions are delighted to have the Interamerican University Guayama Campus join the Empowering Innovative Entrepreneurship Project in 2023. The university will provide facilities for training and host the Business Fair of the Project in August. Additionally, participants can benefit from the InterEmprende Program to further strengthen their projects.
Linda Eddleman, CEO of The Trust for the Americas, celebrated this new phase of the project, stating, "Since 2018, we have been working with AES Corporation to support individuals who want to improve their living conditions. Through continuous education, participants acquire the skills to strengthen their entrepreneurial ventures. We are very pleased with the achievements over the years, and we know that together with AES, we will continue to enhance living conditions in communities, expanding rights and improving inclusion in our hemisphere."
Since its inception in 2018, the collaboration between AES Puerto Rico, The Trust for the Americas, and Acción Social has benefited over 200 entrepreneurs. Many have successfully strengthened their businesses through training and economic incentives, as well as receiving specialized mentoring. This new edition of the "Empowering Innovative Entrepreneurship" Project is undoubtedly great news for Puerto Rican entrepreneurs seeking to expand and improve their businesses.
--
About The Trust for the Americas:
The Trust for the Americas is a non-profit entity affiliated with the Organization of American States (OAS). Established in 1997 to promote public-private partnerships, The Trust has implemented projects in 29 countries and collaborated with over 1,000 organizations in the region. Our initiatives aim to promote educational and economic opportunities, as well as government accountability and transparency. Our unique alliance with the OAS grants us access to decision-makers within the region. This essential partnership serves as the foundation through which we build strong networks in all member states and the private sector. Through our region's development, The Trust continues to contribute to overcoming challenges through strategic alliances that foster cooperation for sustainable results. www.trustfortheamericas.org
About AES Puerto Rico:
AES-PR produces approximately 25% of Puerto Rico's electricity. AES-PR generates the lowest-cost energy on the island, saving the government and people of Puerto Rico about $2 billion. The company's operations provide 110 direct and 600 indirect jobs on the island, offering significant employment opportunities for the people of Puerto Rico. AESPR is a subsidiary of AES Corporation (NYSE:AES), a Fortune 500 global energy company that operates a diversified portfolio of 30,000 MW, including over 13,000 MW in solar and wind projects in operation, under construction, or with signed contracts. The company has diversified Puerto Rico's energy production through AES Ilumina, a 24 MW solar park.
About the Interamerican University of Puerto Rico, Guayama Campus:
The Interamerican University of Puerto Rico, Guayama Campus, is a private, nonprofit institution with deep Christian roots. For 67 years, it has been dedicated to preparing students in various fields of knowledge, including humanities, social sciences, and sciences in the southeastern area of Puerto Rico. At the Guayama Campus, students can choose from a variety of academic programs, including technical certificates, associate degrees in Forensic Informatics, Video Games, and Mobile Applications; bachelor's degrees in Veterinary Technology and Agronomy Sciences. Additionally, it offers a unique master's program in Digital Marketing and E-commerce. Students have the option to study in-person or entirely online. Inter Guayama fosters the dreams of each person who comes with the desire to achieve an academic goal.